Home Desktop products Programming About us
XDESK XTView SysTrayX XFilesDialog EarthSunX Downloads Translations Register FAQ
SysTrayX now has its own domain at SYSTRAYX.COM
About SysTrayX
SysTrayX helps you hide some of the less used icons from the system tray (the hidden icons can still be seen and used in the special SysTrayX menu but will no longer permanently take precious space from your system tray). (demo)
If your system tray looks like that:
with SysTrayX it can look like this:
or even as small as this:
Also SysTrayX provides recovery for those icons if anything happens to the system tray (and in SysTrayX v2 that recovery was seriously improved).
&nbsp
Any action that you would normally perform to the tray icons (right-click, left-click or left-double-click) can now be done from the SysTrayX menu!
You can see for each tray icon a lot of details and you can control if the icon is visible in the system tray, in the SysTrayX menu, both or none!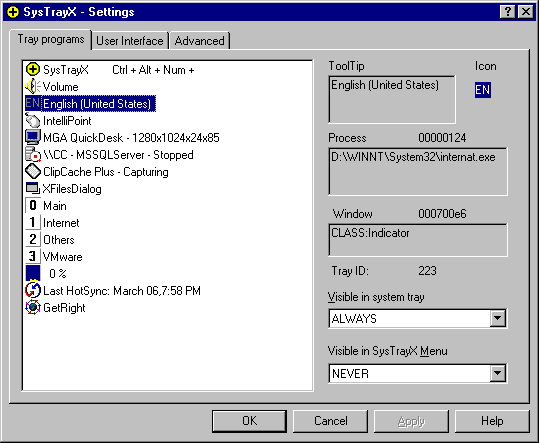 New features in v2:
- cleaner interface;
- it is possible to change the default "rules" for tray icons - for instance it is possible to hide everything in the tray!
- it is now possible to hide even SysTrayX own icon!
- SysTrayX security was added - a password can now be required when the settings dialog or the SysTrayX menu are accessed;
- the hotkeys for SysTrayX menu and SysTrayX settings dialog can now be changed;
- we now repaint SysTrayX menu and SysTrayX settings when a new tray icon is changed (and there is also a flag to stop that);
- improved crash recovery for the system tray;
- other languages are now possible.
New features in v3 - v3.5:
- persistent sort order !!!
- autostart manager (StartUp, registry) !!!
- minimize to tray;
- keyboard combinations that simulate left, right and double mouse clicks;
- rules for all icons of a program (or for icons with a variable ID);
- and other...